"Standing on Holy Ground" Book Club Reader's Guide
Info for Book Clubs
Book clubs are part of what authors live for. I'd love to connect with your club either in person, by Skype, or speaker phone.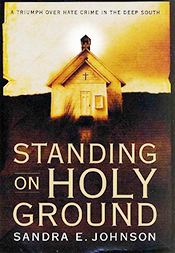 Standing on Holy Ground: A Triumph over Hate Crime in the Deep South
What were the differences between Ammie and Barbara?
What did they have in common?
Why was Ammie driven to help Barbara and the other members of St. John Baptist Church?
Why did Ammie, Barbara, and their friends continue rebuilding the church despite the dangers they faced?
What would you have done regarding Jonathan if you had been Barbara?
Why do you think people commit hate crimes?
Do you think race relations have improved or worsened during the past few years? What do you think has led to this change?